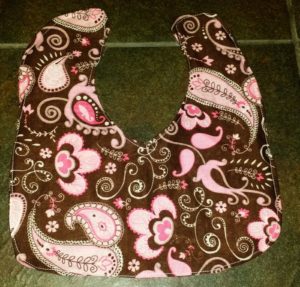 Saturday evening was a quiet evening at home so I decided to try out my new sewing machine for the first time. I have never sewed on a machine before ( aside from a little in home economics back in middle school, which I remember nothing about ).
I started with a very well done video by Diane on how to thread the bobbin on my specific machine ( Janome 2212 ) and set up my machine to begin a project. I went through the entire video step by step and successfully got the machine set up on the first try.
I then decided to try a small, simple project as my first dry run. I chose a Baby Bib Tutorial from Crafty Gemini. I already had some fat quarters of fabric that I had purchased a few years ago for another craft project that never got finished so I chose a cute pattern and started the tutorial. I didn't do too bad for my first attempt, though I should have chosen a project with more straight edges and less curves as a starting point of learning my machine. I also failed to print the pattern at the correct size so when completed the bib turned out really small, more for a baby doll bib rather than a real human kid.  Ooops.  I also didn't cut my two sides of fabrics precise enough and ended up with a couple of holes where the fabric didn't quite meet up and didn't get sewn together.
This project will be reused as scrap for future projects, but it was a fun way to get to know my machine and give a functional purpose to the project, just in case it worked out. I'm sure my granddaughter, Laila, will be my guinea pig for many items in the near future.