This recipe combines two of my favorite things, tater tots and buffalo ranch! It's supposed to serve 8, but I guarantee each person will have two servings.  😉
Note: This recipe can be made low carb friendly by replacing the tater tots with cauliflower. It can also be made vegetarian-friendly by replacing the chicken with tofu.
Ingredients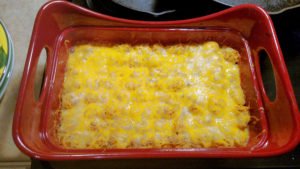 1½ – 2 pounds uncooked chicken breast, cut into bite-size pieces – replace with tofu for vegetarian
1 – 24 oz. bag Tater Tots Potatoes ( for low carb, substitute with boiled cauliflower )
¼ cup Franks Buffalo sauce
3/4 cup ranch dressing and  1/4 cup of blue cheese dressing (You can do any mixture of dressing you prefer, as long as it equals 1 cup)
1 cup Chihuahua or mozzarella cheese
6 green onions, thinly sliced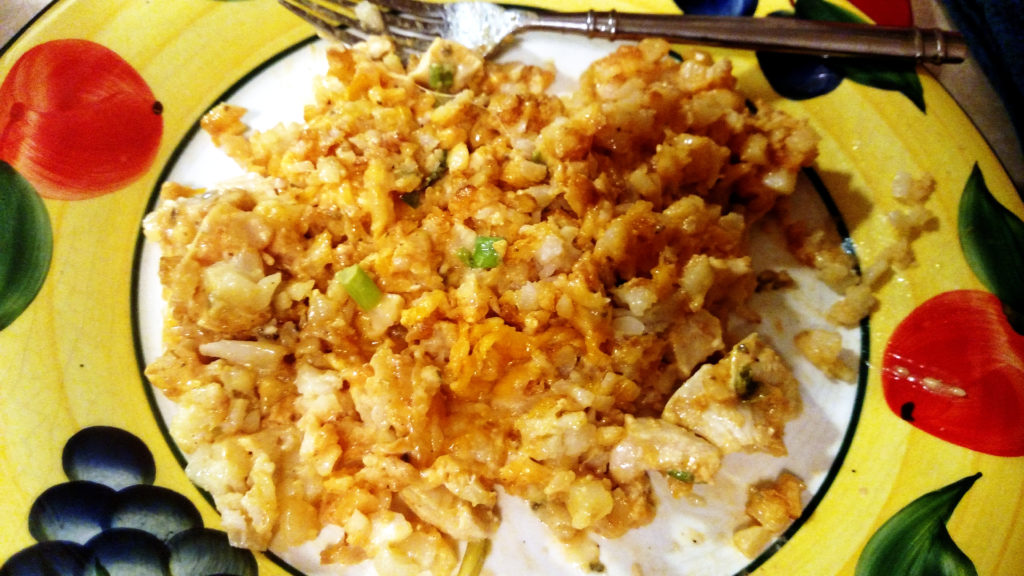 Directions:
Preheat oven to 350 degrees.
Combine the hot sauce and ranch dressing in a small bowl.
Place chicken / tofu pieces in a 12 x 9 casserole dish.
Coat the chicken / tofu with half of the buffalo ranch sauce.
Sprinkle most of the green onions over the chicken / tofu. Save some of the onion slices for the topping.
Place the Tater Tots or Cauliflower in rows on top of the chicken.
Pour the remaining buffalo ranch sauce over the Tater Tots.
Sprinkle the cheese over the top of the Tater Tots.
Top with the remaining green onions.
Bake for 45 minutes at 350 degrees.
Serve alone or with nacho chips.  Go get seconds!  
Recipe modified from Premeditated Leftovers