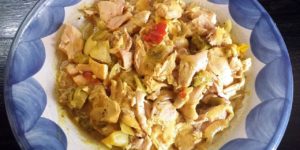 This is a very delicious and easy low carb slow cooker recipe my husband throws together. It is not induction friendly due to the cream of chicken, but is fine for anything after the induction phase.
Ingredients:
6 – 8 Chicken Thighs or Breasts

1 package of Frozen Onion & Pepper mix

1 package of Frozen Broccoli
1 can of Cream of Chicken soup
1 1/2 Tbs of Curry Powder (or to taste)
Black Pepper to taste
Directions:
Put all ingredients in the crock pot / slow cooker.
Cook on low for 8 hours.
Stir up and enjoy!
Serve alone or with riced cauliflower. (For non-low-carb, server on top of egg noodles.)