See the entire Dale Hollow photo album
May 17 – 21, 2015 was our annual spring camping vacation.  We had a group of five – Jason and me, Christina & Charlie, and Beth. This year we decided to go to Dale Hollow Lake in Burkesville, Ky since none of us had ever been before.
The day we left Charlie and Christina left a few hours before us.  We met up with Beth so she could follow us since she was driving solo. Upon meeting up with her, we realized her tail lights were not working. So we drove up to Auto Zone to get some parts. Jason spent a couple of hours working with the electrical wiring before they figured out it was all due to a blown fuse in the truck. Problem solved! But alas, our truck, Big Nasty, was leaking anti-freeze and fast.  After a phone call it was determined that Big Nasty should not attempt to make the three hour trip. So after some discussion and contemplating, Jason took the truck and the dogs back home and I continued to the campground with Beth and bunked with her, my gracious hostess, for the week.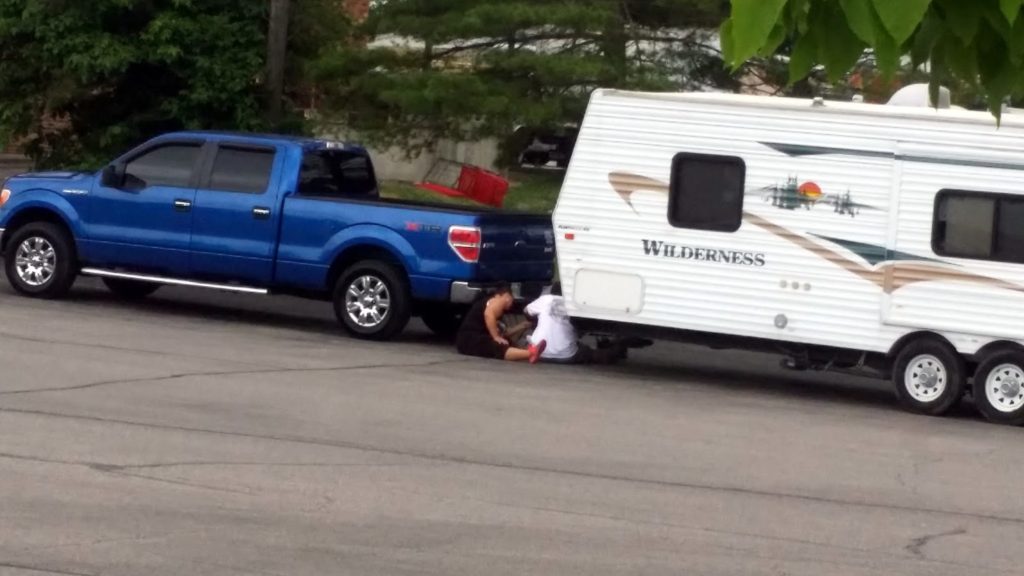 Jason & Beth working on Beth's Camper

 
We stayed in the state park campground with full hookups. Since we were there during the week and school was still in session the park was almost empty. We had one other camper in our loop besides us and we barely saw them the entire week.  The park is very nice with sites arranged in several cul-de-sac loops. This made it so you didn't look directly at the back of your neighbors camper and instead looked into some dense woods, which was a nice change of scenery.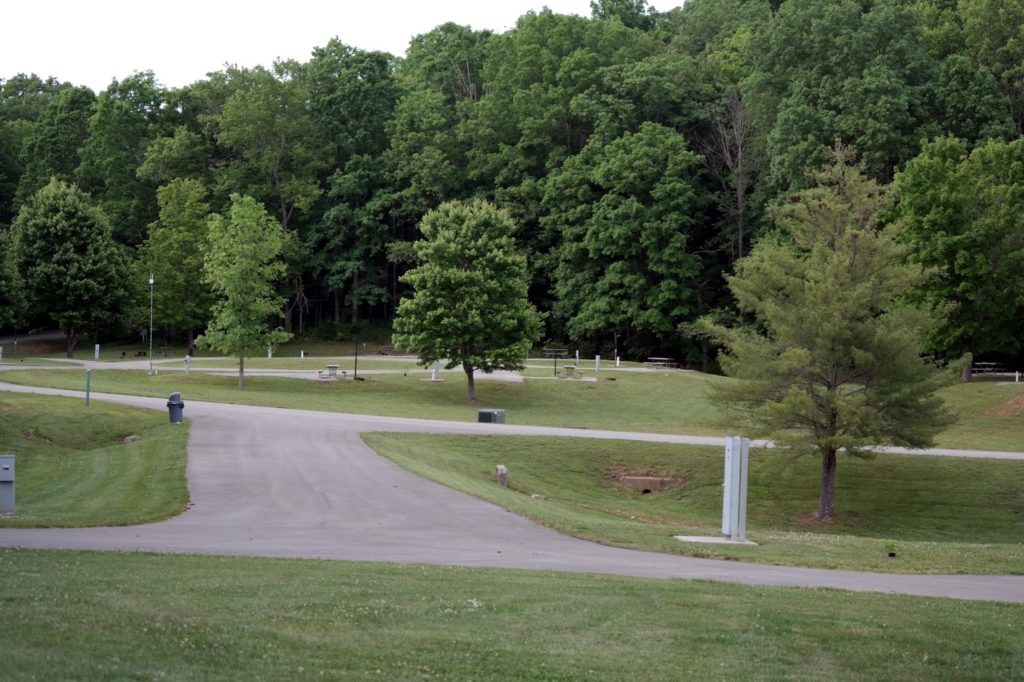 Empty Camping Loop

 
You can't see the lake from this campground, but it's a short drive away to the marina. We saw a campground on the Tennessee side right at the water's edge that we plan to go back to sometime.  We saw this campground the day that we rented a pontoon boat to go swimming and fishing for the afternoon. We brought lunch with us and had a pair of mallard ducks begging for handouts, which they received. They then proceeded to follow us everywhere we went while on the lake.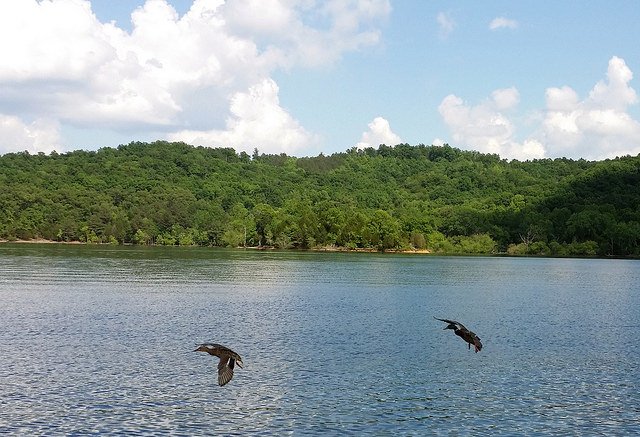 Our Feathered Friends
The lake had a ton of islands that you can camp on or just dock up to and go explore. We stuck to the water, but it would be very neat to explore some of the primitive woods out there.  The water was so clear we could easily see our toes and probably a good 15 feet below that while swimming. The water is also a beautiful blue green color, not the muddy brown that a lot of lakes tend to be.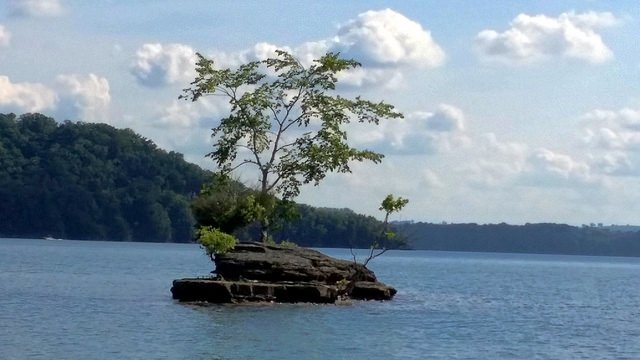 Tiny Island

 
We didn't see any eagles on the lake but we did see a Green Heron, which was a new sight for me. I've seen plenty of Great Blue Herons, but never a green one.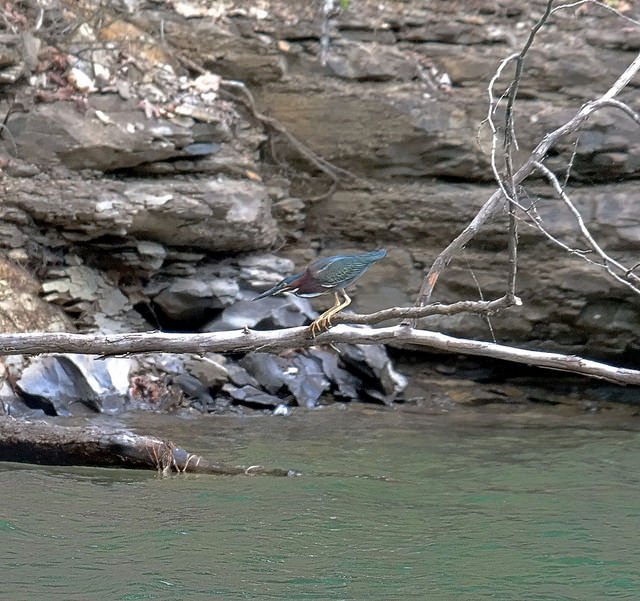 Another day we decided to do a short hike up to a bluff outlook called Eagle's Nest.  It was a short hike but a very steep hike!  But it was 1000% worth the effort. The view was spectacular and stunning. We stayed up there just looking around for probably close to an hour before we headed back down to the campground.  While we were up there Christina got dive bombed by a brave humming bird and I found an eagle feather, which I kept as a souvenir.

View from Eagle's Nest
On the way back down the hiking trail it occurred to me that there were probably many geocache sites around the area. Sure enough there was one up on the cliff but we were already half way back down the trail so we chose another one near the parking lot. Charlie and I foraged into the woods for a good while and finally found the ammo box inside a fallen tree.  This was the first cache I've found that actually has items to trade out. So we signed the logbook and took a green glow-stick and replaced it with a pink breast cancer cause bracelet.  I also got the last geocache coin that was left in the box (it started out with 50).  There was also a baseball, a miniature frisbee, some pens, business cards and other small trinkets in the cache box.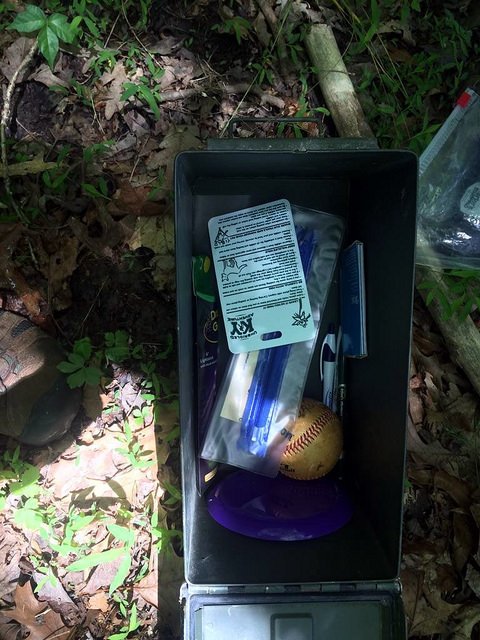 Geocache Contents

 
The rest of our time was spent hanging around the campsites and enjoying the perfect weather. We had campfires, music, brews, good food and a great time. There were many banged heads on awning bars, Charlie stuck his tongue on the bug zapper, and beer bonging lessons went around until everyone was a natural. 😉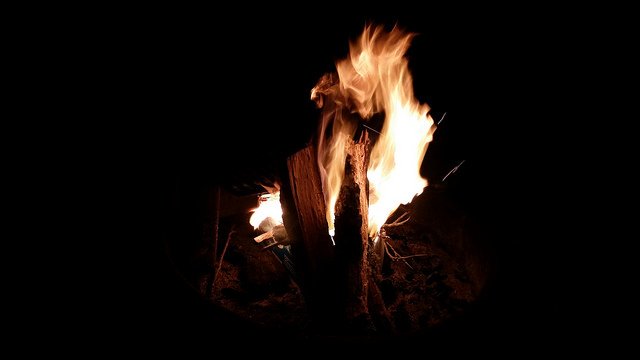 It was a fantastic trip. The only thing that would have made it better is for Jason to have been able to join us. But now Big Nasty is fixed and we just purchased two kayaks, so our next trip is sure to be just as fun!  Next stop – Taylorsville Lake!

See the entire Dale Hollow photo album