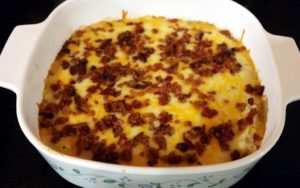 One issue I have with low-carb eating is the urge for baked potatoes…well urge no more! This recipe Food.com, with my own modifications, and will stamp those urges to the ground and make your brain think you're eating a yummy, delicious, sinful baked potato with all the fixin's.
Ingredients:
16 oz of Frozen Cauliflower
1 cup of Sour Cream
(may sub with 4 oz of cream cheese & 2 Tbs butter)
1 cup of Shredded Cheddar Cheese
1/2 cup of Bacon Crumbles
3 Green Onions (optional)
Garlic – to taste
Pepper – to taste
Directions:
Cook cauliflower until tender
Preheat oven to 350 degrees
Chop cooled cauliflower into very small pieces – (I prefer to run mine through the food processor for that smooth potato texture.)
Mix sour cream, 1/2 of the green onions, 1/2 of the cheese and 1/2 of the bacon, pepper and garlic in a medium bowl
Stir in cauliflower
Place in medium baking dish and top with remaining cheese and bacon
Bake for 20 minutes
Sprinkle remaining green onions on top before serving.