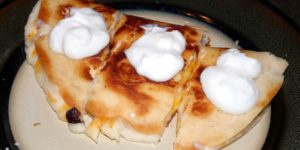 I've been craving a quesadilla for a week or so now and remembered that I had low-carb wraps in the pantry and plenty of cheese…so I made some for lunch! Easy, fast and yummy! You can even add in meats, veggies and other condiments as you wish.
Ingredients:
1/2 tbs Butter
Low Carb Wraps (1 per quesadilla)
1/2 cup Shredded Mexican Cheese blend
1/2 cup Mozzarella Cheese
Directions:
Melt butter in skillet on medium to medium-high heat
Lay one wrap in skillet
Top entire wrap with Mexican cheese blend
Top half of wrap with mozzarella cheese
When cheese starts to melt start lifting wrap and watch for the bottom to brown
Once bottom of wrap browns, fold wrap in half and remove from skillet
Cut, garnish and serve!