One of the biggest downfalls for me of maintaining a low-carb diet was my infinite love for pizza and good pizza crust. With this low-carb, flour replacement crust, it is a downfall no more! You won't even know it's low-carb!  This recipe is for the crust only – add sauce and toppings of your choice.
Ingredients:
1 1/2 Cups Shredded Mozzarella Cheese
3/4 Cup Almond Flour
2 Tbs Cream Cheese
1 Egg
Garlic Powder or Salt
Cookie Sheet
Parchment Paper
Directions:
Preheat oven to 425.
Combine mozzarella cheese and cream cheese in a medium size microwaveable bowl.
Microwave for one minute, stir, and microwave an additional 30 seconds, stir again.
Stir in egg and almond flour.
Wet your hands to keep the dough from sticking and spread on a cookie sheet covered in parchment paper. (If the dough is stringy, pop it back in the microwave for  another 20 seconds to re-soften).
Sprinkle garlic salt or garlic powder over the dough.
Poke  holes in dough with a fork to avoid bubbles.
Bake for 8 minutes. Poke a hole in any bubbles.  Bake for an additional 4 to 6 minutes or until slightly brown on top.
Add pizza sauce, spices and toppings at your discretion (these will add to carb counts).
Pop back into the oven long enough to warm toppings and melt cheese.
Ooooh and ahhhh over how much it tastes like regular crust pizza! And you don't need a fork like most low-carb pizza recipes – eat with your hands by the slice!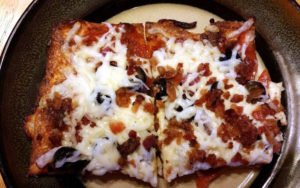 When we make this pizza we put a layer of low-carb pizza sauce (Great Value from Wal-Mart), pizza seasoning (or oregano and basil), pepperoni, red onion, mozzarella cheese, bacon crumbles, black olives and crushed red pepper flakes.  Topping combinations are endless!
Entire Crust: 765 Calories; 55.8g Fat; 55.6g Protein; 11.9g Carbohydrate; 2.3g Dietary Fiber; 9.6g Net Carbs