I've been wanting to try kayaking for quite some time now and Jason got on board with me recently. Now that we are camping more, and usually near lakes, we decided to bite the bullet and give kayaking a try.  At first we were looking at beginner hard shell kayaks. Wow, there are so many to choose from!  From sit-ins to sit-ons, cheap to extremely expensive, recreational to touring.  After joining a few kayak groups on Facebook we were informed about Sea Eagle inflatable kayaks. So we did some research and watched some YouTube videos and decided that would be the best route for us to go so we purchased two of the SE 330 Pro Solo Kayaks.
We chose the inflatables for several reasons:
They get great reviews and many people prefer them over hard shells.
They are extremely portable (it was going to cost us around $1000 to have a roof rack and kayak mount installed on Big Nasty that would work while pulling the fifth wheel).
They only weigh 26 pounds and fold up to fit in a bag so no need to have 2 people to get it off the truck. A simple foot pump will have it ready to go in about 10 minutes.
The model we chose was almost half the price of the hard shell one we were looking at.
We figured these would be a great starter boat for us to see how much we like it before we put more money into a hard shell (if we do choose to go that route down the road).
The kayaks arrived yesterday so we inflated them in the house to check them out.  We were going to go on our maiden float that evening, but it rained all evening.  So instead we hit up the sporting goods aisle at Wal-Mart and purchased some accessories – dry bags, lunch coolers, gear clips, rope, etc.
Today was nice and overcast and storms weren't supposed to come in until this afternoon.  So we took an extended lunch break and headed up to
Lake Jericho
a few miles up the road from us.  There is a boat ramp there or a dock that we can launch from.  We used the boat ramp today, but I think the dock would be easier – my exit was not very graceful!
We had a great first time out. We only paddled for an hour, but I can feel it in my arms and torso already.  What a great upper body and core workout this is going to be!  And the nature! We saw several Great Blue Herons, many water turtles, a few fish and what we think was a wood duck. 
The Sea Eagles were pretty awesome.  They seemed wobbly but I think that's just because we aren't used to them.  They are supposed to be fairly difficult to tip over, but we didn't push our luck trying. (They kind of give you the same feeling you get when you lean back too far in a swivel office chair and when you get so far back you think you're going to fall backwards, but you don't.) We got the hang of paddling and turning around pretty quickly, but being out of shape and never kayaing before, we tired out pretty quickly.  Arms and abs will be sore tomorrow!  But I can see this being a great time and a great workout all in one!  Once I get the hang of it a little better and get more comfortable with the boat I'll start bringing a camera with me – I'll probably purchase a waterproof digital camera at some point – but for now I was only brave enough to pull my phone out of the dry bag for one quick shot while on the water just off the boat ramp.  More adventures in kayaking to come!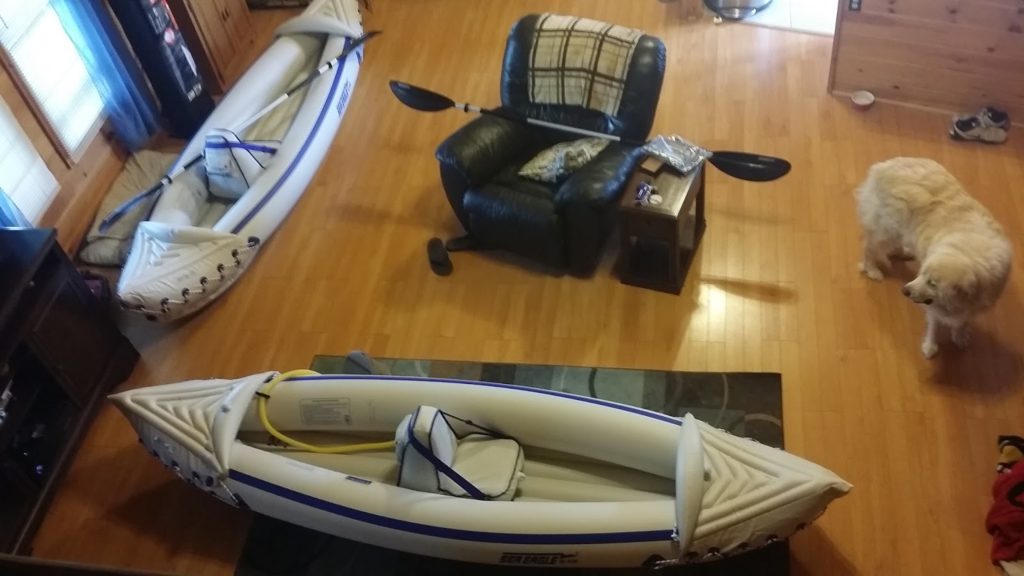 Inflating the Kayaks in our Living Room – Buddy is confused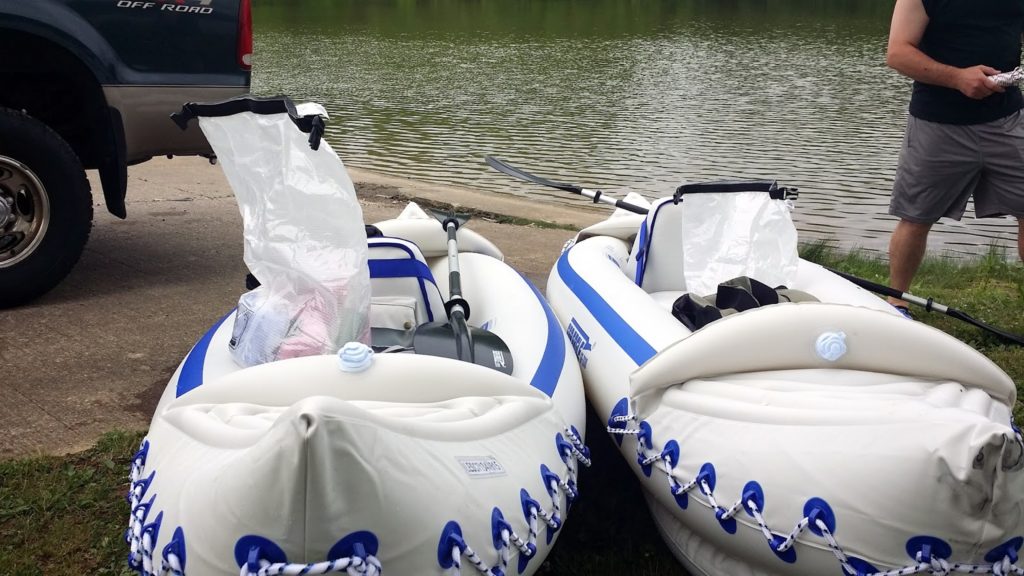 Preparing to Launch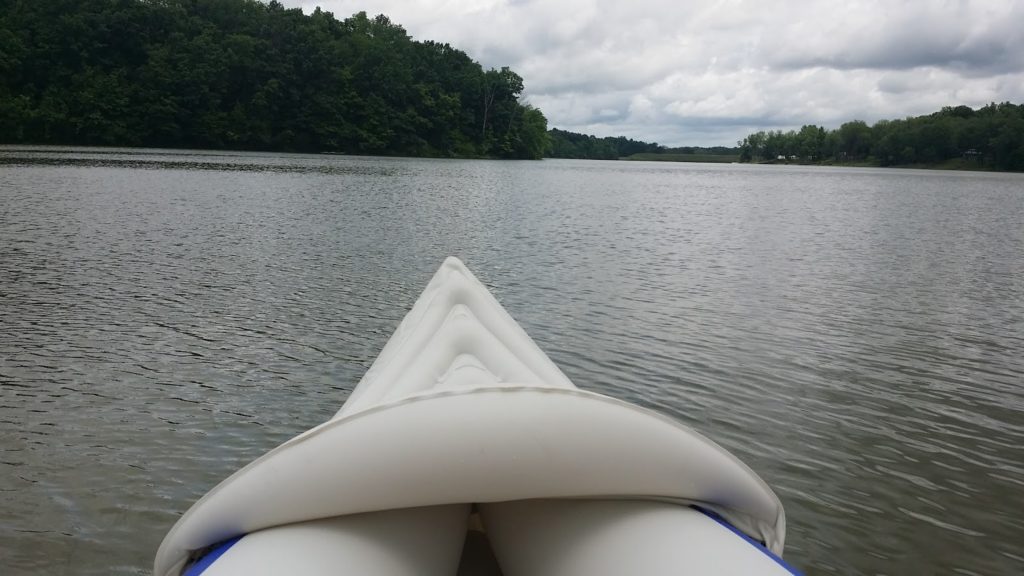 The View from my Kayak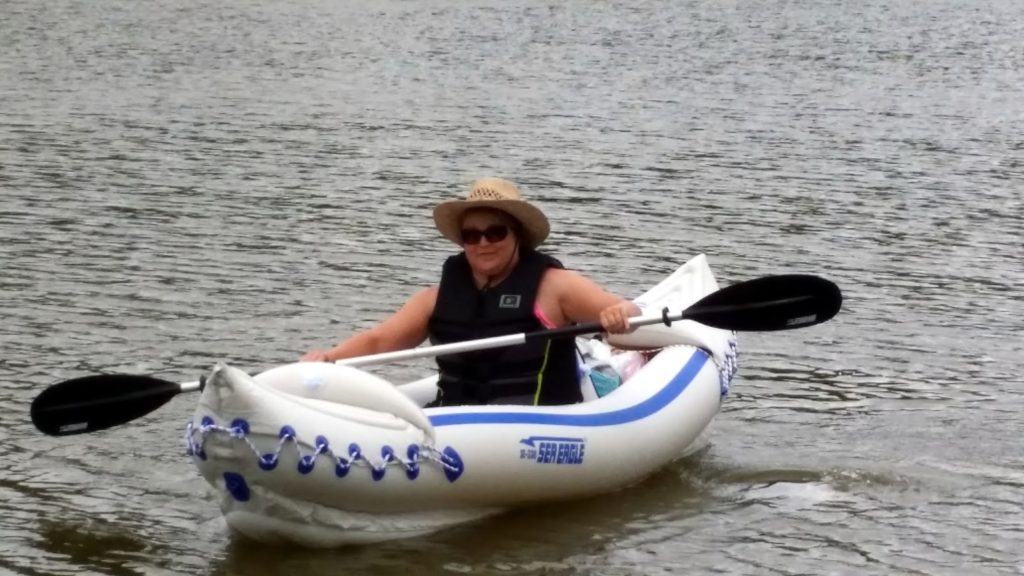 My Setup and New Sun Hat  😉